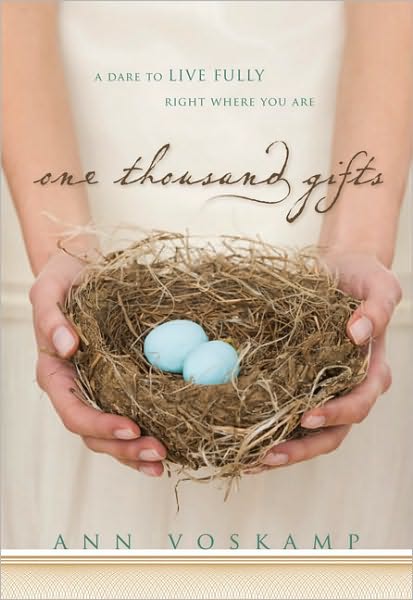 I've been awed and inspired by this
woman's words
and her book
, One Thousand Gifts
. I encourage you to read it and marvel at the ability God is giving her to see grace in ALL things. Godly disciplines are learned, not merely stumbled upon, and I am submitting myself as an eager, though struggling, student.
Grace is freely given, and we stand ready to be lavished when grace comes in the form of free flowing blood from a cross we could never bear, or a well spring of forgiveness to blot out our shame. Yet grace often remains an unwanted gift. Instead of opening our hands to receive God's graciousness, we stubbornly hide knotted fingers behind our backs, wanting grace in a different package than the one offered, arguing that the gift is, in fact, not grace at all.
What does grace look like exactly? Is it packaged neatly in brightly colored paper, trimmed with ribbon poised and curled? Sometimes. Often, though, its wrapped in sorrow, bound tightly with difficulty. Lonely in its appearance. Uninviting and Austere.
If you then, being evil, know how to give good gifts to your children, how much more shall your Father which is in heaven give good things to them that ask him? -Matthew 7:11
Can you uncurl knotted fingers long enough to accept His gifts? Can you look past your circumstance and see your way through to Him? Ask Him to hold your hand?
If a son shall ask bread of any of you that is a father, will he give him a stone? Or if he ask a fish, will he for a fish give him a serpent? Or if he shall ask an egg, will he offer him a scorpion? If ye then, being evil, know how to give good gifts unto your children: how much more shall your heavenly Father give the Holy Spirit to them that ask him? -Luke 11:11-13
Last night I dreamed of Ethan running, abandoned and free --the way children run when they forget parents are watching. His face upturned to the sky, his legs free of scars and pain. It was one of those dreams that you don't remember when you awaken. Instead, it washes over you unexpected, details falling into remembrance. It met me early this morning, harsh and unfair. Where's Grace to be found in crooked limb, in painful step, in watching sister dance and brother run? In dreams yet unrealized?
Thou tellest my wanderings: put thou my tears into thy bottle: are they not in thy book? -Psalm 56:8
Tears have a way, a Grace-like way, of bringing me running to my Father. "Help him; heal him, " I managed to say. "Make your Grace sufficient for him --for me."
At school today, I recount the dream. "Ah, you dreamed of hope," Joy Mac says.
And there it was: GRACE.
Isn't it all Grace? The pain that sends us to our knees. The promises of healing. The slow fading of scars.
By him therefore let us offer the sacrifice of praise to God continually, that is, the fruit of our lips giving thanks to his name. -Hebrews 13:15
(Titling the blog, I, at first, purposefully omitted the words "Fibular Hemimelia" that have donned every page. "That's not what this one's about," I thought. That still, small voice, however, told me instead: "That's exactly what this is about, Sindy." Grace.)